Image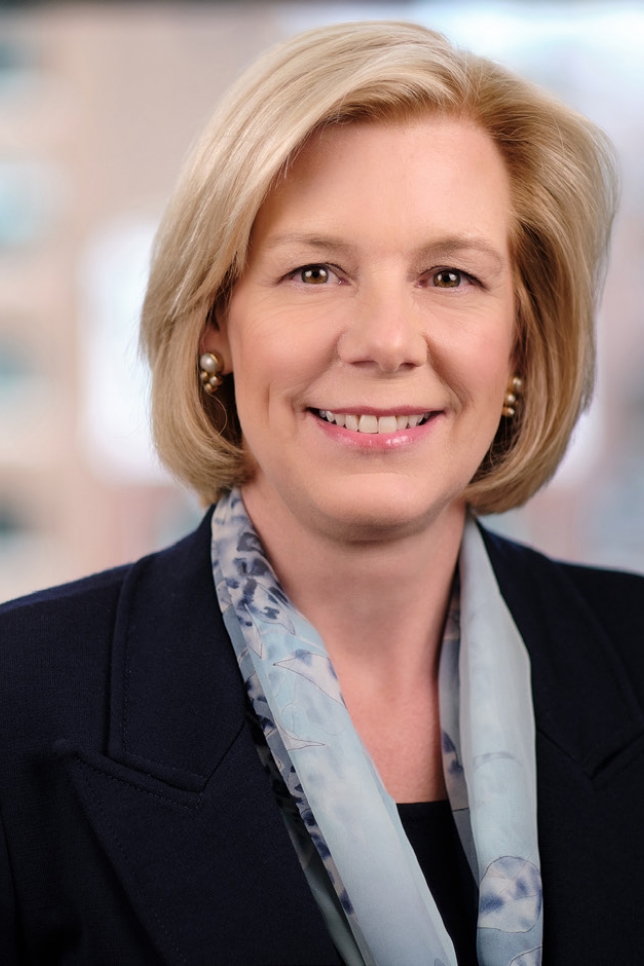 Image
Credit
Gretchen Ertl/Whitehead Institute
Leading in times of change & challenge
On July 1, Whitehead Institute welcomed two new leaders: Institute director Ruth Lehmann and Sarah Keohane Williamson, chair of the board of directors. Both are deeply experienced leaders dedicated to advancing investigator-driven biomedical research and to ensuring the Institute's pioneering role in scientific discovery. They take their positions at a time of global uncertainty and economic instability caused by COVID-19; and at a point when it has become imperative to address bias and inequity across society—including within the biomedical research community. We asked Lehmann and Williamson to discuss the challenges and opportunities they face as leaders, now, and envision facing in coming years. 
You each decided to take on these roles before COVID-19 struck and a series of tragic deaths made clear the imperative to confront inequity and institutional racism. What did you see, then, as the most important challenges and opportunities you would face?
Lehmann: When I decided to take on the position as director last fall, the clearest opportunity was to build on Whitehead Institute's history of pioneering discovery and its track record of developing important tools and methods for advancing biomedical research around the world. The key challenge was to increase public understanding of the fundamental importance of investigator-driven research—studies that increase our understanding of biology's most basic processes and that enable biomedicine to apply the new knowledge to improving human health.
Williamson: Prior to being asked to chair the board, I had been a member of the search committee that selected Ruth as the new director; I also served on the investment committee. The search committee's discussions reaffirmed for me how amazing an institution Whitehead has been and how much it can contribute to improving human health in the future. Our work on the investment committee made clear the depth of the resource challenge for any discovery research organization—and especially for a world-class Institute determined to stay on the cutting-edge of research technology.
And today, how have the opportunities and challenges changed?
Williamson: The role of the board is to focus on the long term and ensure that the Institute is moving toward its strategic goals. Whitehead Institute's long-term objective remains the same: enabling the smartest and most creative researchers to pursue answers to novel and important biological questions. But there are, obviously, challenges that must be addressed in the near term. The board's responsibility is to ensure that Ruth has the resources and information she needs to address the near-term challenges while continuing to pursue her vision of how to most effectively achieve Whitehead Institute's long-term objective. For example, we both recognize the importance  of enhancing diversity within the board itself, and we are working hard to strengthen our board now.
Lehmann: I agree with Sarah that our fundamental opportunities and challenges remain, with two near-term imperatives placed on top of them: pursuing our research programs while protecting against COVID-19 resurgence; and substantively addressing institutionalized inequity.
We are exploring new ways to protect our community while enabling our labs to maintain productive research programs. When the coronavirus first hit, everyone was caught off-guard. Today, we know a lot more about this virus and about how to protect people; and we have a better chance to plan ahead. We can be innovative, exploring new ways of organizing research programs and supporting investigators and staff as we safely continue our vital work.
This summer, we will undertake activities that will help us—as an institution and a community of individuals—identify and address how we can move beyond  perpetuated bias, unequal treatment, and inequality of opportunity. We will begin with an institute-wide town hall on these topics; and the Whitehead Institute Postdoc Association has already started to organize a series of working discussions. We have also begun strategizing ways to build more diverse pools of candidates for the Members, Fellows, staff scientists, and postdocs we recruit in the future.
What lessons about leadership have you taken from previous experiences of dynamic change and challenge?
Lehmann: During my time at New York University, we experienced the 9/11 attacks, Hurricane Sandy, and COVID-19. These were distinct crises, with very different kinds of impact, and I have taken a variety of lessons from them. But two lessons were common to them all.
First, people tended to focus on the greater good in an intense way, and went far beyond what is normally asked of them, with a remarkable spirit. In times of challenge, people have a wonderful ability to come together in ways that enable each to become their best.
Second, effective two-way communication becomes even more essential in a crisis. Leaders must provide information and direction; but they also need to listen and learn. That is particularly important now, with COVID-19: new information emerges almost daily, yielding both new perspectives and new facts of the problem to address. Tough situations spur astonishingly creative, out of the box ideas; a leader must be ready to hear those ideas. 
And that goes to how I lead: by listening and learning, hearing people out, getting opinions, and actively seeking input from across the organization. I strive to make decisions based on all available information—and to keep the Whitehead Institute community fully informed.
Williamson: I echo Ruth on that point: in times of major crisis, we need to make sure we hear a breadth of opinion and perspective; and we need to be ready to acknowledge and act on new information. I'm from the investment world, and the "Global Financial Crisis" of 2008-09 provided many lessons on leadership. Among the most significant is: keep an open mind about the downside possibilities by asking, "What are we missing; what could go wrong that we haven't anticipated?" And while you must keep your long-term goals in mind, be open to pivoting your strategies for pursuing them.
Funding has been an ongoing challenge for centers conducting investigator-driven research—even during strong economic periods. What are your most pressing concerns about research funding, nationally and at Whitehead Institute?
Williamson: Too many policymakers and funders seem to have forgotten that we cannot create breakthrough biotechnologies and drugs without the new knowledge that comes from studying fundamental biological processes. As a result, there's been an emphasis on funding for research with distinct, practical applications and a decline in support for the kind of discovery research done at centers like Whitehead Institute. I hope that one lesson our nation's leaders—and we all—take from the pandemic is that scientists' ability to so quickly learn about the new coronavirus and to expedite vaccine development is due, in large part, to the fundamental biological research done in the past.
Whitehead Institute operates at a level of excellence that helps drive science forward in significant ways, but maintaining excellence requires continuing investment. If we, collectively, short-change that investment, the loss will be incalculable.
Lehmann: I am virtually high-fiving Sarah! Couldn't have said it better. The directorship of Whitehead Institute offers a powerful platform for communicating the importance of discovery based research and for advocating for strong, consistent funding. I intend to use that platform. 
At Whitehead Institute, we need to invest both in people and state-of-the-art technologies. That means increasing support for researchers and expanding public engagement and education programs to help bring more under-represented groups into the professional science pipeline. It means enhancing our shared technical-innovation centers, which enable scientists throughout the Institute (and, often, across MIT and the Boston biomedical community) to use the most advanced equipment and methods. And it means experimenting with new ways of organizing labs and scientific activities so that our research programs can operate safely during a pandemic. 
If we can fund these needs, then Whitehead Institute will be well-positioned to continue making major contributions—to be a powerful catalyst in the quest to advance biomedical science and improve human health.