Whitehead prides itself on attracting bright young researchers and providing an environment that nurtures them.
Image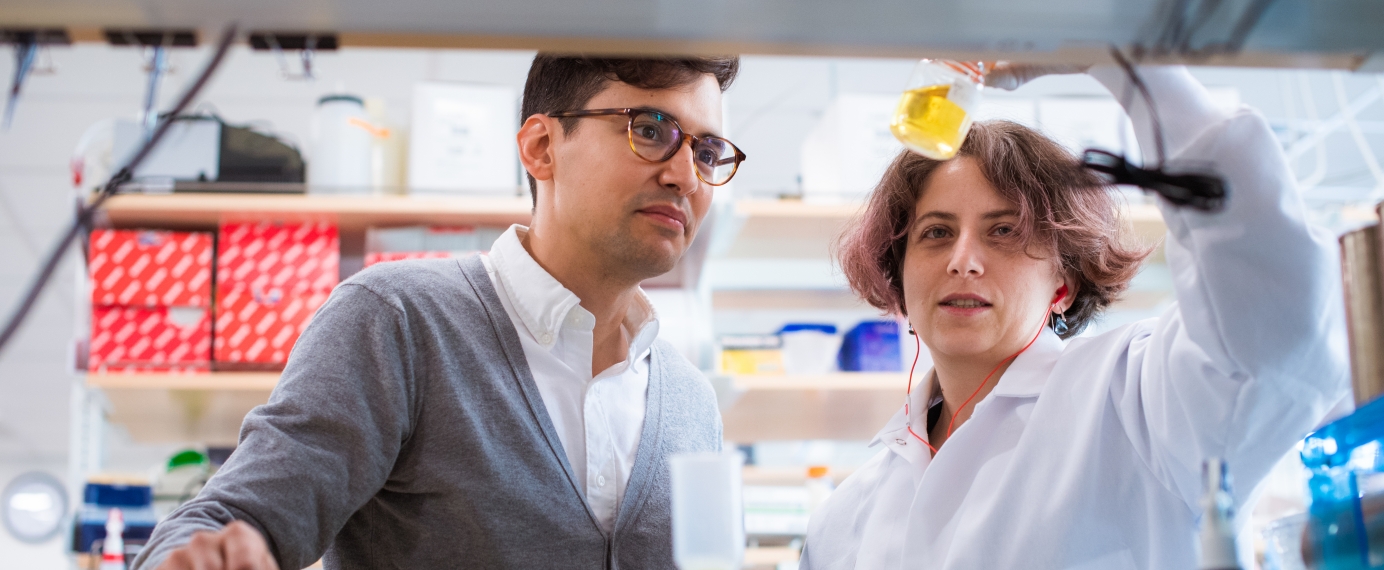 Motivated postdoctoral scientists design and complete many of the experiments done at the Institute. They benefit from the expertise of world-renowned faculty members and other postdocs and graduate students, with whom they often collaborate. There are two kinds of Whitehead postdocs: associates and fellows. Associates receive funding from the Institute, while fellows receive stipends from government agencies such as NIH and foundations such as the American Cancer Society. Both positions fall into the category of postdoctoral appointments, which are designed to be for a period of three to five years, providing that an appropriate match between the postdoc and the lab is maintained and funding is available. Postdocs are appointed directly by Whitehead labs. If you are interested in a postdoctoral position, please visit our faculty members' bio pages and contact them directly.
Program Information and Resources
Whitehead Institute Postdoctoral Association 
Whitehead Institute Postdoctoral Association (WIPDA) consists of postdoctoral scholars and members of the administration and faculty who have a special interest in issues that are important to Whitehead Institute postdocs and wish to work together on those issues. The organization is currently focusing on career development, postdoc mentoring, communications, and social events. Past achievements include the establishment of higher salary levels and equalized benefits for postdoctoral associates and fellows, and the implementation of child care benefits for Whitehead employees.
Postdoc Training Program
Our training program provides expanded resources and learning venues for our Postdocs. The WIPDA organizes a series of career development talks that are given every year by a new set of speakers (around April/May).
Topics usually included are:
Application and Interviewing for faculty positions - speakers are usually WI postdocs who have recently successfully competed for faculty positions.
Negotiating your start-up package
Starting and running your own lab - Speakers are usually former WI postdocs who have already started their labs
Successful Grant writing
Second Mentor Program
The WIPDA encourages every WI postdoc to chose at least one other mentor besides their primary advisor with whom they discuss their research and career decisions frequently.
Obtaining a second mentor is crucial for several reasons:
Independent evaluation of the specific project and research progress
Career advice
Assess progress toward the desired career goals
Provide letters of reference for grants and job applications
Conflict resolution
Many postdocs at Whitehead have already established informal and productive relationships of this sort through collaborations within academia and the biotech industry. It should be noted though, that the second mentor could be outside of the postdoc's primary research area – perhaps in an entirely different field.
In some cases, the postdoc may choose to be mentored by someone with whom he or she is already familiar. However, in other cases – e.g. when the postdoc is new to the field and/or not involved inactive collaborations – he or she may want to obtain suggestions for second mentors from the primary advisor and/or other colleagues in the primary advisor's lab.
It is recommended that the postdoc allow six months from the time of arrival at the Institute so that the postdoc and his/her primary advisor have the opportunity to discuss the initial phases of the research project and career issues.
Whitehead Institute Networking Directory (WIND)
A primary goal for Whitehead Institute is to ensure the continued success of our current and former trainees. There are an impressive range of career options for scientists with a background in biomedical research, but navigating these choices and finding an ideal position can be challenging. Towards this goal, we created the Whitehead Institute Networking Directory (WIND), which is open to current and former Postdocs. WIND supports the goals of Whitehead Institute to not only provide our current researchers with the best possible training, but to also provide a professional network and source of wisdom long after they have left to embark upon the next stage of their career. With WIND, we hope to harness the diversity of experiences and expertise from our community to create connections for advice, guidance, and job possibilities. This is a fantastic opportunity to help others while making beneficial contacts along the way.
If you are a current or former Postdoc and do not have a WIND account, please request one by emailing humanresources@wi.mit.edu
Registered users: Please click here to start connecting with your fellow researchers today!

MIT Resources
Independent Activities Period (IAP)
Local and National Resources
American Association for the Advancement of Science (AAAS)
Biospace.com - News and information on biotechnology
Mass. Biotechnology Council - Careers and Internships Directory
National Postdoctoral Association
Science Magazine - Career Site
Postdoc Training Program
Our training program provides expanded resources and learning venues for our Postdocs. While research is the core of Postdoc training, the Whitehead Institute acknowledges that other skills are also required for individual success in science. To address these needs, the Whitehead Postdoc Training Program provides the opportunity for all Whitehead postdocs to obtain and practice skills necessary for success inside and outside the laboratory. These skills include research ethics, presenting one's work to a general scientific audience, and the ability to enrich and promote oneself through travel to external workshops and conferences. The Training Program also promotes professional development by funding and promoting career development seminars, workshops on applications and funding issues, awareness of alternative science careers, examination of the mentor/postdoc relationship, discussion of issues relevant to women and families, and networking through formal and informal social events.
Current activities:
Ethics in Science and Research training (yearly)
Whitehead Institute retreat (yearly)
Whitehead Institute forum (weekly)
MIT Biology colloquium (weekly)
Educational awards through Whitehead Postdoc Association
Semi-annual career development seminars
MIT sponsored Postdoc Career Seminars (yearly)
Internal talks on topics in bioinformatics and imaging
Alternative careers in science (given by prominent WI alumni)
Teaching skills (opportunity exist at MIT and other Boston institutions
Training under consideration:
Application skills - how to apply for grants
Interview skills
Negotiation skills
Presentation skills
Scientific/grant writing skills
Mentoring skills
Initiation of new lab practices
Intellectual property awareness
Postdoc Symposium
Developing a productive mentor/postdoc relationship:
Establish expectations and project goals
Establish a reasonable time frame for milestones
Set up annual evaluations with advisor
Seek out co-mentors available within and outside the WI community
Some excellent professional development articles on the web:
Career Development Topics on ScienceCareers.org: This site is a treasure trove of great articles on conflict management, negotiation, budget management (personal finance as well as managing a lab budget) and beyond. Dig into their archives and be ready to read!
The Director's Fellowship Allowance Program
Since 2004, the Whitehead Institute has provided an allowance to each postdoctoral-level researcher who obtains external fellowship funding to support their postdoctoral training program. The allowance may be used to cover expenses such as a computer, travel costs to a scientific conference, books, memberships to scientific organizations and other expenses that are in support of the postdoc's research.
Purpose: Whitehead encourages Postdoctoral Associates to apply for external fellowships. In recognition of their meritorious achievement, the Director's Fellowship Allowance program provides Whitehead postdocs who are awarded individual fellowship support from external sponsors an institutional allowance.
Eligibility Requirements: In order to be eligible for the Director's Fellowship Allowance, a postdoc must apply for and be awarded, through a competitive process, funding from an external Foundation or governmental agency. Postdoctoral Fellows are eligible for this allowance whether their sponsor awards funds directly to Whitehead and the Institute in turn provides monthly stipend support to the fellow, or the sponsor provides stipend support directly to the fellow, rather than through an award to Whitehead. Also, "visiting postdocs" whose primary appointments are at other institutions are eligible to receive a Director's Allowance.
Allowance: Eligible postdoctoral fellows will have access to $2,500 from the Director's Office to support research-related expenses, including such things as a computer, travel to professional meetings, or other tools and supplies to support their training experience. All purchases must be made through the Whitehead Purchasing Department. Only one Director's Fellowship Allowance will be provided to a fellow during a fiscal year regardless of the number of different fellowships the postdoc receives during that fiscal year.
Plan for Fiscal Year 2010 and beyond: In support of successful new external fellowship applications, the Director will provide recipients with a Director's allowance of $2,500 on a one-time basis when the fellowship is initially activated.
Educational Awards
The Whitehead Postdoc Association sponsors Educational Awards to help Whitehead Postdocs supplement their financial needs to attend meetings, take courses or buy books that are directly relevant to their postdoctoral training. Awards of up to a maximum of $1,000 will be given to each recipient to help cover any portion of the costs such as registration, travel or housing.
Please note that priority will be given to first time applicants. You are not eligible for this award unless you have completed six months of your Whitehead postdoc at the time of application.
The award only applies to the meeting indicated on the application form. If you receive an award and decide not to go to that particular meeting, you will need to reapply for support for another meeting.
In general awards are granted two times a year. Application forms are provided to all postdocs by email. The completed applications are reviewed by the WIPDA Educational Award Committee and awards are announced within several weeks of the application deadline.
Whitehead Institute partners with Bright Horizons® to offer a wide range of benefits to assist families in different stages of life. Postdocs are eligible for priority access and discounted tuition at eligible Bright Horizons Centers in MA. Eligible postdocs may also arrange for up to 10 days per benefit year of Back-Up Child Care. Back-up Care rates are $6/hour for in-home care and $15/day per child for in-center care. Eligible postdocs also have access to College Coach to assist in the college admissions process, from college list development, to essay review and financial aid process.
Whitehead Institute also offers eligible postdocs a Child Care Assistance Program to assist in the cost of childcare. This benefit is not available to employees receiving discounted tuition at Bright Horizons Centers in MA. 
A number of childcare resources are available to Postdocs. Whitehead offers subsidized rates for in-home and/or in-center backup care through Care.com. Postdocs are eligible to register for a Premium Membership with Care.com at no cost. The Premium Membership allows Postdocs to find, book and pay caregivers through Care.com
MIT Medical offers Family Support classes as part of its Community Wellness program. MIT offers a range of parenting topics such as childbirth education classes, new mothers group, toddlers and parents group and nursing mothers group. Please note that some classes may be open to MIT Traditional Health Plan members only.
Career Related Events
The Postdoc Association sponsors various seminars that are interest to postdocs.
 
Coffee Hour
There is a weekly coffee hour on Wednesday afternoons in the Whitehead cafeteria.
 
Postdoc Retreat
This Postdoc-only retreat is held annually in the Boston area and provides an opportunity for postdocs to discuss scientific ideas, foster community, and socialize with fellow colleagues. In addition to scientific talks, there is a micro-poster session and a career panel.
 
Whitehead Forum
Whitehead Forum is a weekly seminar held during the academic year on Fridays at 12:30 in McGovern Auditorium.
 
Biology Colloquium
Biology Colloquium is a weekly seminar held throughout the academic year, featuring distinguished speakers in many areas of the biological sciences, from many universities and institutions worldwide. Unless noted otherwise, the Colloquium takes place in the Stata Center, building 32-123, at 4 p.m. every Tuesday.
 
Independent Activities Period
The Independent Activities Period (IAP) is a special 4-week term at MIT that runs from the first week of January until the end of the month.
 
Whitehead Retreat
The annual Whitehead retreat takes place every September in Waterville Valley, New Hampshire. It starts mid-afternoon on a Friday and ends after lunch on Sunday. The purpose of the retreat is to share current research and encourage discussion and collaboration. Faculty and Fellows speak 20 and 10 minutes respectively about their current research, and their labs present posters in sessions that follow the talks. As much of the science has not yet been published, the retreat is only open to Whitehead researchers and a small number of invited speakers and guests. Usually, there are special speakers and panel discussions.
Researchers stay in hotel rooms and condos, all within a few minutes walking distance of the conference center. The beautiful valley is also host to a pond, tennis courts, a golf course, hiking, bird watching, mountain biking, and more, all of which attendees can avail themselves of on their free afternoon.
Buses depart from Whitehead on Friday morning and return on Sunday after lunch.
Immigration and Visas
Human Resources handles immigration and visas.
 
Safety Training
Whitehead scientists receive safety training during orientation.
 
Salary
Postdoctoral Fellows and Associates are appointed to conduct research projects in fulfillment of their postdoctoral training. Members of the postdoctoral staff may be appointed as fellows (whose support comes from an outside funding source) or associates (whose support comes from a grant or other source of Whitehead funds).
To maintain its excellence in science, Whitehead Institute provides a highly competitive salary/stipend.
Each year the compensation schedule for Postdoctoral Fellows and Associates will be reviewed and revised as appropriate, in consultation with the faculty.
The rates for Postdoctoral Fellows and Associates are as follows:
 
Years of Postdoc Experience
Postdoc Pay Scales Effective July 1, 2022
1 year:  $63,000

2 years: $63,700

3 years: $64,300

4 years: $65,000

5+ years: $65,300

Although stipends for postdoctoral fellows are governed by the funding agency providing the fellowship, the fellowship stipend will be supplemented up to the Whitehead established rates if allowable under the terms of the fellowship.
 
Reappointments and Reviews
Postdoctoral Associates and Fellows are reviewed annually on the anniversary of their date of hire as a postdoc at Whitehead and will receive their increase on this date.
Supplements, which are provided to bring fellowship support up to the Whitehead compensation level, will be reviewed on the postdoc salary review date to ensure that the stipend/supplement combination matches the current Whitehead compensation level.
 
General Tax Information for Postdoctoral Scholars
Due to legal restrictions on our capacity to advise you about tax liabilities, neither the Human Resources office nor other offices within Whitehead Institute are able to answer individual questions regarding your tax situation.
All taxpayers must file a tax "return" (form) each year with the Internal Revenue Service (IRS), the United States government agency which handles federal taxes, and may also be required to file with the state tax agencies. The United States tax system is based on a system of self-assessment. Therefore, it is the individual's responsibility to understand the tax requirements.
Postdocs are a vital and integral part of Whitehead Institute's research. Here are a few profiles that give a glimpse into the lives and work of those scientists.
Housing
Most postdocs live close to the Whitehead Institute, with roommates or with a partner/spouse. They take public transportation, walk, or bike to work. The most popular areas to live are Somerville and Cambridge. Most landlords will require proof of income (3:1 income:rent ratio) and/or a credit check to rent an apartment. It is common for landlords in the area to require a payment equal to up to 3 months rent up front, which may include a non-refundable realtor fee. Postdocs searching for other-postdoc roommates are welcome to contact WIPA (wipa@wi.mit.edu) and we will send an email to the listserv.
MIT's Off-Campus Housing Office
This office has listings of temporary housing, realtors, and additional resources, as well as a guide to neighborhoods and the rental housing market. Online listings require an MIT web site certificate for access, so postdocs can only access the listings at the Housing Office (E32-214).
Health and Fitness
MIT Athletic Department and Facilities
Show Whitehead ID to get reduced membership to campus facilities.
Transportation
Bike Permits: Whitehead requires that everyone who parks their bicycles either at the rack in front of the building or in the basement garage have a bicycle permit.
T-Pass and Parking: There are buses running between the MIT campus, the Harvard campus and the Longwood Campus across the river.
Bus and transportation information is available at:
Other Useful Links
MIT Activities Committee (MITAC)
MITAC provides discounted tickets to movies, theaters, athletic events and special trips. Show Whitehead ID to get discounted tickets.
The MIT Credit Union offers checking, savings programs and loans.
Access to libraries simply by showing Whitehead ID. You can also request materials through Whitehead's library.
Great place for newcomers to meet people from all countries.