Whitehead Institute is committed to fostering a diverse, equitable and inclusive workplace that is supportive of researchers and staff from a variety of lived experiences, perspectives, and backgrounds.
Image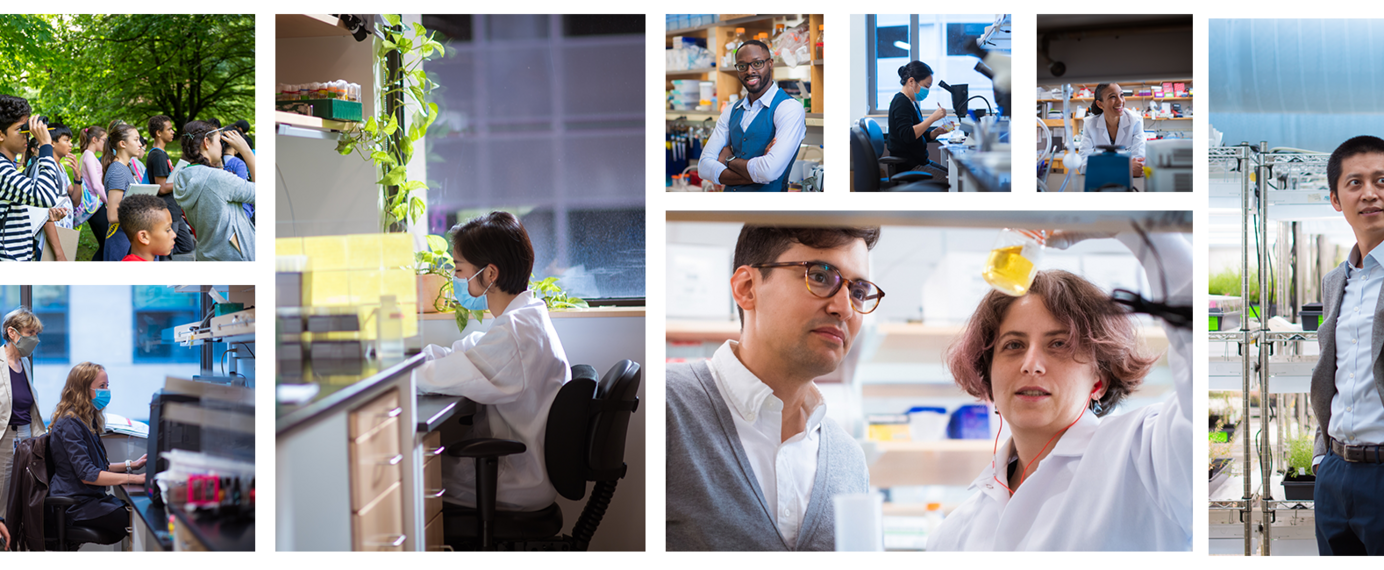 The Whitehead Institute believes diversity, equity, and inclusion (DE&I) are integral to its values and mission. As a research institute dedicated to improving human health through biomedical science, we believe that diverse thought invokes creative inquiry, drives innovation, and fuels scientific breakthroughs. We welcome individuals of all backgrounds including race, ethnicity, gender identity and expression, sexual orientation, age, veteran's status, national origin, disability, marital status, parental status, socioeconomic status and/or religion. 
Our commitments include: 
Improving hiring, retention, and promotion of diverse talent
Creating and maintaining an inclusive culture that promotes physical and mental well-being and respect for all Whitehead community members
Developing partnerships to increase engagement and outreach with local communities to improve accessibility particularly for individuals from groups underrepresented in biomedical sciences 
Encouraging open dialogue and facilitating learning opportunities to address DE&I topics which are available to the entire Whitehead community.
Starting in 2020, we completed a diversity audit through Jones Diversity, Inc. View our commitments (shared in July 2021) at this link.
Whitehead Institute hosts regular seminars on diversity, equity and inclusion issues in the sciences and beyond. View past events below.
Cultivating Community and Accessible Research Spaces for Queer and Trans Researchers (6/8)
Dr. Robin Aguilar, a queer and trans PhD candidate, science communicator, writer, and illustrator at UW Genome Sciences, presented a talk on the voices and perspectives of trans and gender-nonconforming researchers who have been overlooked across STEM disciplines.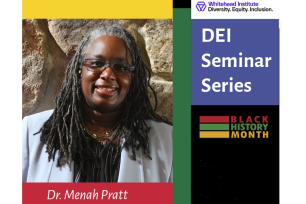 Black History: Civil Rights and Social Justice (2/8)
Dr. Menah Pratt, vice president for strategic affairs and diversity at Virginia Polytechnic Institute and State University, presented a talk on the history and experience of African Americans and on race, gender, and class in America.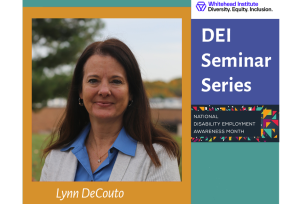 Creating Accessible PowerPoint Presentations 101 (10/26)
Lynn DeCouto, marketing and communications manager for Work Without Limits, taught the community six ways to make PowerPoint presentations accessible to individuals who are visually impaired or have other disabilities.
We continue the Institute's Diversity, Equity and Inclusion Seminar Series with Sandra Yamate, CEO of the Institute for Inclusion in the Legal Profession.
The Institute's Diversity, Equity & Inclusion (DE&I) Seminar Series continues with Dr. Matthew Clair, Assistant Professor in the Department of Sociology and (by courtesy) the Law School at  Stanford University.Dr. Clair's talk, titled "Recognizing and Responding to Racism: Lessons for Health and Medicine," explores social inequities in medicine.
In this interactive talk, Dr. Bettye Kearse explores the history and significance of Juneteenth through the lens of one family.