Seminar Series for High School Teachers
Image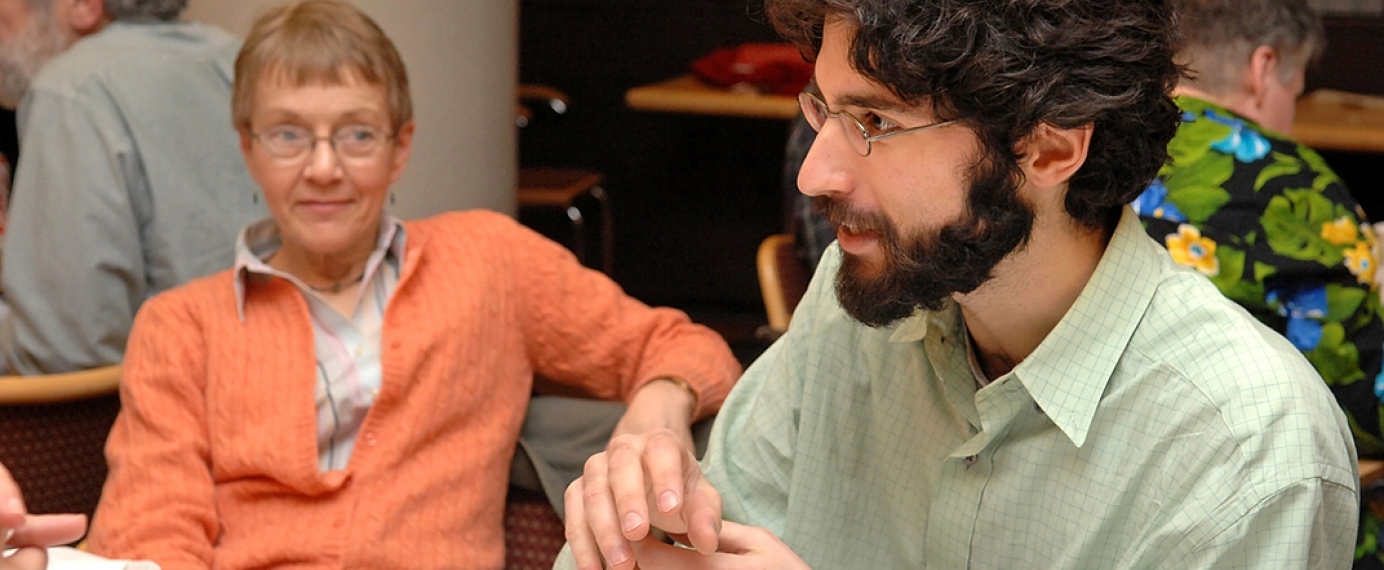 Whitehead Institute's Seminar Series for High School Teachers offers educators the opportunity to explore topics at the forefront of biomedical research and incorporate new ideas into their classrooms.
The series, which attracts 60-80 high school teachers each year, begins in October of each academic year. Seminars are conducted on the first Monday of each month through June. Sessions begin with a scientific lecture and conclude with a working dinner, allowing participants and Whitehead scientists to share ideas and discuss a range of issues affecting science education.
Integral to the success of the program is the teacher-scientist partnership in which interested teachers are paired with Whitehead partners—young scientists who attend each session and serve as a resource for the teacher throughout the academic year. Partners answer questions, share their expertise, and even visit schools to meet with students. Over the years, participating teachers have found these partnerships to be invaluable relationships.
Due to evolving circumstances surrounding COVID-19, and in accordance with Whitehead Institute policies, a VIRTUAL edition of Whitehead Institute's Seminar Series for High School Teachers will be held for the 2020-2021 season.  This year's series, Genetic Variation and Disease, will examine the role genetic diversity plays in helping researchers understand the genetic basis of human disease.
The first seminar of the 2020-2021 season will be held on Monday, November 2 via Zoom. Subsequent virtual sessions will be held the first Monday of every month through June 2021. Each session begins promptly at 4:15 p.m. and includes a lecture and online working dinner in the form of Zoom breakout rooms, ending by 6:15 pm.
Registration is now closed. For more information contact Amy Tremblay.
Origins of Infectious Disease
One Brain, Many Genomes: Somatic Mutation and Genomic Diversity in the Human Brain
Christopher Walsh, Division of Genetics and Genomics, Boston Children's Hospital and Harvard Medical School
http://www.walshlab.org/
Back to Basics: Race or Racism? Revisiting the Use of Race as a Risk Factor 
Darshali Vyas, Resident Physician and Clinical Fellow in Medicine at Massachusetts General Hospital
How other animals' genomes illuminate our own
From Genomes to Medicine: how the study of human genetic variation can reveal the causes of disease - and how we might reverse them
Dr. Mark Daly, Director of the Institute of Molecular Medicine Finland and Institute Member and Co-director of the Program in Medical and Population Genetics at Broad Institute. 
View Dr. Daly's presentation here. 
Population genetics and human disease
David Reich, professor of genetics at Harvard Medical School and Senior Associate Member of the Broad Institute of MIT and Harvard
View Dr. Reich's presentation here.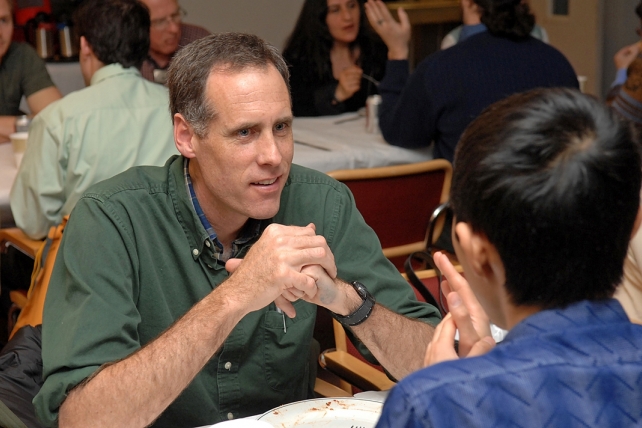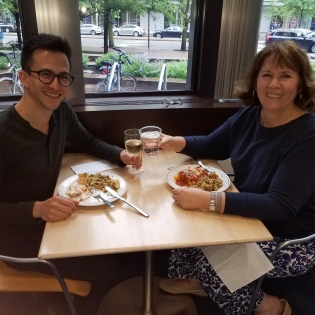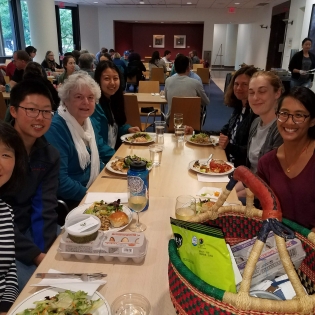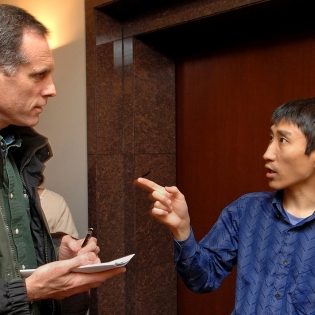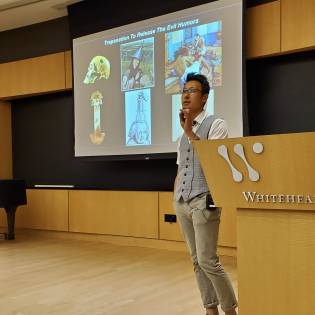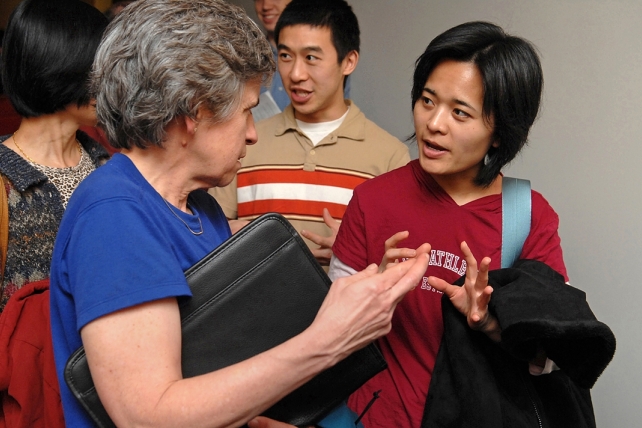 What is involved in participating in the seminar series for high school teachers?
The series is usually held the first Monday of every month from October through June in McGovern Auditorium at the Whitehead Institute. The first seminar of the 2019-2020 season will be held on Monday, October 7. Each session starts promptly at 4:15 pm with a lecture on a selected topic by a leading scientist in the field. The session ends around 6:30 pm after a dinner during which teachers get a chance to informally interact with each other and Whitehead scientists. The schedule for the academic year is given to you in the beginning of September, so you can plan ahead and make necessary arrangements.
What Is a Whitehead partner?
Each teacher is assigned a Whitehead Partner—a young, enthusiastic scientist who will attend each session with you and serve as a resource to you throughout the school year. In the past, Whitehead Partners have visited their teachers' classrooms to lead labs, give talks on career opportunities in science, or do a presentation on their research. Whitehead Partners have also hosted class visits to the Institute, providing students a glimpse into a working laboratory.
Who can register for the seminar series?
Any high school teacher can register for the Seminar Series. However, space is limited so registrants must apply early. To participate, teachers must commit to attending as many sessions as possible. Teachers who miss more than three sessions will be dropped from the program.
How many teachers participate in the program?
About 60-80 teachers participate in the program each year.
What If I can't make a session?
When registering for the program, teachers make the commitment to miss no more than three sessions of the series. Naturally we understand that there will occasionally be conflicts. When you will be unable to attend a session, it is very important to let us know in advance so we can plan for an accurate attendance. We rely on your input when planning dinner, and your Whitehead Partner counts on you being at the session unless he or she hears otherwise.
Registration for the 2020-2021 Seminar Series for High School Teachers has now closed.
For questions please contact Amy Tremblay at tremblay@wi.mit.edu.
For more information on the teacher program, please contact Amy Tremblay at tremblay@wi.mit.edu or 617-258-7270.
All lectures are held in the McGovern Auditorium in the Whitehead Building at 455 Main Street, which is accessible by public transportation. Metered street parking is available but limited. Hourly garage parking is also nearby.