Spreading science from Cambridge to Jamaica
Whitehead Institute research technician Brittania Moodie is about to teach eight students from a rural primary school in Jamaica how to use a microscope, but first she leads them in a virtual dance session. Moodie and the students are in separate locations due to the pandemic lockdown, but they dance together over video—the closest the students can get these days to playing with their school friends—laughing and getting energized. The students are excited to use their foldscopes, paper microscopes that Moodie has shipped from Cambridge to Jamaica as part of a kit for the science workshop, but they can still struggle to focus in the challenging conditions of isolated online learning, Moodie says, so she likes to get things rolling with some feel-good physical exercise.
Moodie, who works in the lab of Whitehead Institute Member Iain Cheeseman, has long wanted to provide educational opportunities in STEM (science, technology, engineering, and mathematics) to kids with limited access to such resources in her home country of Jamaica.
 "I want to expose underserved students there to the skills that a STEM education provides, from specific technical skills to logical reasoning, data analysis, and how to give presentations," Moodie says. "These skills can help them become thought leaders, benefiting the students and their communities."
Moodie was working on plans to run a science summer camp in Jamaica when the Covid-19 pandemic struck, removing any hope of travel or in-person teaching. However, as the lockdown forced schools to switch to homeschooling approaches, Moodie realized that the need for good STEM opportunities was more pressing than ever.
Moodie and a friend, Sashoy Milton, launched an ambitious educational outreach organization, the Caribbean Youth Development Institute (CYD Institute), to bridge learning gaps for underserved students in the Caribbean. Moodie began designing a virtual science workshop as their first offering. The CYD Institute is virtual for now, consisting of a web portal, online learning materials and courses with graded quizzes, and Moodie's workshops. In the future, Moodie hopes to expand CYD Institute's offerings and provide in-person opportunities, which will be particularly important for students who do not have regular internet access.
Image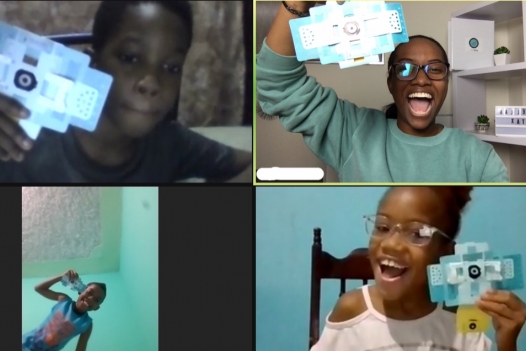 Credit
Courtesy of Brittania Moodie
Image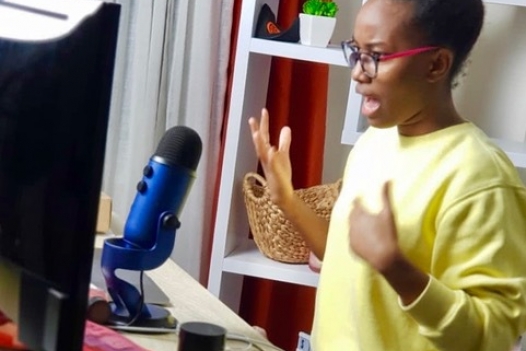 Credit
Courtesy of Brittania Moodie
Becoming an Investigator
Moodie's first workshop, "Becoming an Investigator," part of the #ProjectSTEM workshop series, teaches science skills and approaches to primary school students by having them pretend to be investigators of a crime scene. Moodie reached out to an old teacher of hers, Kaye Dawkins, who now works at a rural primary school to find students for the first runs of the workshop—they started with fifteen, and have scaled from there. Meanwhile, at Whitehead Institute, Moodie asked a few colleagues to help put her plan in action. Cheeseman encouraged Moodie and helped her secure funding. Public programs manager Amy Tremblay and frequent-outreach-participant Wendy Salmon, Whitehead Institute's microscopy facility manager, provided advice on how to run a science workshop online. They also lent foldscopes to Moodie when she discovered that the items were on backorder, so that she could ship her kits to the students in time to have the first run of the workshop in November.
Each run of the workshop takes place over the course of four Saturdays, during which time Moodie meets with the students in small groups. Every week, the students receive virtual case files, a Mission Impossible-style video informing them of their crime scene analysis task, and instructions on the week's activity. The main activities for "Becoming an Investigator" include learning the components of blood, blood typing, microscopy (using the foldscopes), and fingerprint and hair analysis. In between sessions, the students are assigned worksheets and quizzes on the web portal so Moodie and her collaborators can assess their learning. At the end of the workshop, the students present their findings as evidence against the suspect they think is guilty, showing off the skills they have acquired.
Moodie was a little worried about how well her workshops would work virtually, given that science is a very hands-on enterprise and that some of the students are not well versed in using the internet, but the students have been very enthusiastic. Moodie says that they have been completely engaged, experimenting with the tools in their kits, asking lots of questions, and sharing what they have learned with their families.
"When the sessions go over time because the students keep asking questions, it gives me hope that we really can expand access to STEM education effectively in Jamaica. Their excitement about what they are learning makes me excited for the future," Moodie says.
Moodie is gearing up for another run of "Becoming an Investigator" and developing two more workshops, "Discover Your Backyard" and "Art of Math," under the umbrella of #ProjectSTEM. She has big hopes for the CYD Institute, and her lab members are excited to see what she comes up with. 
"I think Brittania has been incredibly thoughtful about how to both build an engaging learning experience for the students and reach the communities that she wants to reach," Cheeseman says. "I hope that she can continue to build upon and get support for her mission, and I'm really excited about how our lab can apply the lessons she's learning to other outreach opportunities at Whitehead Institute."
Topics