A lab away from lab: Virtual summer program lets students do science at home
Expedition: Bio is a two week long science program for middle school students run by Whitehead Institute that typically takes place at the institute with a session in July and another in August.
This year, due to the Covid-19 pandemic, the program was made virtual, requiring the Institute's manager of public programs, Amy Tremblay, and her team to come up with creative solutions for running hands-on science sessions remotely. Before the program began, Tremblay sent each student a box full of everything they would need for two weeks' worth of experiments, including some lab technology that students would otherwise never get to take home and keep, such as a micropipette—a tool used to measure and dispense very small amounts of liquid—along with everything from a foldscope microscope—a microscope made mostly of cardboard—to a mortar and pestle to gummy bears.
"The goal of Expedition: Bio is to ignite a passion for science in young students. We hope that for some students this program will be one of their first steps towards a STEM career, but our main goal is for all of the students, regardless of what they ultimately pursue, to come away with a deeper understanding of and appreciation for science," Tremblay says.

The students logged onto video conferencing software each morning to (virtually) spend the day together, attending sessions with Whitehead Institute scientists--Member Jing-Ke Weng, lab manager Valentina Carballo, microscopy facility manager Wendy Salmon, and postdoctoral researchers Mary Jane Tsang and Ally Nguyen; the public program team's instructors--Lornie Bullerwell, Don Ross, Don Pinkerton--and teaching assistant, Julia Kautz; artist and nature journalist Sandy McDermott; and guest presenters from outside institutions.
The final sessions every afternoon were helmed by the STEM education foundation BioBuilder, a longtime collaborator, which ran a two week long idea accelerator-style synthetic biology course. The program, which receives funding from the biotechnology companies the Amgen Foundation and Sanofi Genzyme, the latter providing scholarship support, was offered for free this year to students who had registered for the cancelled in-person version.
In pursuit of that goal, the program exposes the students to a variety of scientific concepts, experimental procedures, and science fields and careers. The students get hands-on experience using lab equipment they might not otherwise access until high school or later. The challenge this year was to provide those same experiences remotely. The program remained focused on hands-on science; students conducted experiments in their homes with the educators providing instruction and oversight by video call. 
Experiments included mushing up strawberries to extract goopy white blobs of their DNA, training in the use of a micropipette, watching gummy bears swell to frightening proportions to illustrate the principle of osmosis, building and using a foldscope microscope to observe items at 140 times magnification, grinding up leaves and pipetting the residue into tubes under blue light to see how chlorophyll fluoresces when
A tank containing a water scorpion.
A virtual visit to Drumlin Farm yeilded a water 
scorpion.
Image: Conor Gearin/Whitehead Institute

Julia Kautz, currently an undergraduate at Northeastern University, has been a teaching assistant during Expedition: Bio for three years. "One advantage of doing the program virtually is that the kids learned how accessible science can be," Kautz says. "Although getting access to the labs and equipment at Whitehead Institute is usually an exciting part of the experience, there's something to be said for discovering that you can do cool science in your kitchen." Since the students got to keep all of the equipment, the program's team encouraged them to continue running experiments after the program ended.extracted from plants, and more.

Throughout the sessions, students stayed engaged, asking questions that kept the scientists on their toes. The text chat function allowed even the shyest students to share their thoughts.In between the experiment sessions, students participated in other activities including nature journaling, meeting with a scientist from Amgen—an Expedition: Bio funder—to discuss drug discovery, and a virtual visit to Drumlin Farm to observe pond life and learn about life cycles, evolutionary adaptations, and food webs. Students got a close up look at the behavior of tiny pond creatures that usually occur unseen underwater such as hunting and eating their prey, gathering air to carry with them like a miniature scuba tank, and breathing through their posteriors.

BioBuilder had the students debate the ethics and marketability of synthetic biology products from vanilla-producing yeast to lab grown meat.
Man holds up a glowing grey box. 
Students used a P51 (TM) molecular fluorescence 
viewer to examine how chlorophyll fluoresces.
Image: Greta Friar/Whitehead Institute

The Biobuilder course culminated in a presentation session on the final day of the program, for which students recorded videos explaining their projects. This replaced the poster session that typically concludes Expedition: Bio. The students showed off their creative solutions to real world problems in medicine and environmental science with projects including a system engineered to produce apple flavor for better tasting medicine, another that converts human and animal waste into biofuel, and algae that produce sustainable bioplastics.walked students through the basic steps of developing a biosynthetic product: identifying a problem to solve, picking an organism to engineer, determining the inputs and outputs for that organism, and finally figuring out the biological parts or "devices" needed to achieve the desired outcome.In the afternoons, students joined the Biobuilder instructors to learn about synthetic biology—the engineering of existing organisms and natural systems to give them useful new features and abilities—and brainstorm their own ideas for a synthetic biology solution to a problem of interest.
Although redesigning Expedition: Bio into Whitehead Institute's first remote learning program seemed like a daunting challenge at the outset, the program went off with hardly a hitch.
"We're really excited by the level of quality we were able to bring to this new space, and happy with how engaged the students were," Tremblay says. "Still, I hope we get to teach them in person next year."
 *** 
Written by Greta Friar
Image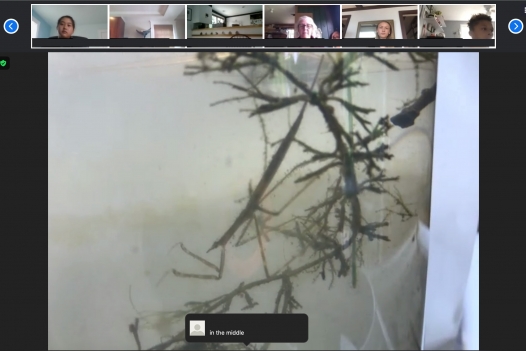 Credit
Conor Gearin/Whitehead Institute
Image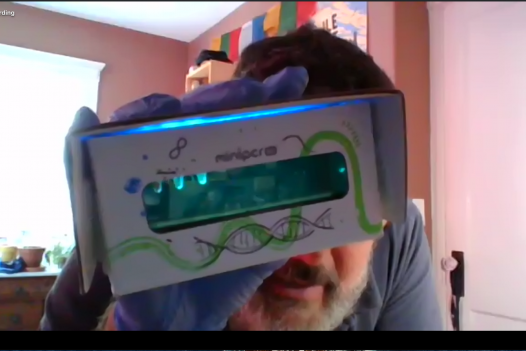 Credit
Greta Friar/Whitehead Institute
Topics