A celebration 50 years in the making
TabulaSynthase, the blog of Whitehead Institute, brings together ideas and perspectives from the Whitehead community and beyond. 
These days, few people spend fifty years working in one organization. Fewer still have loved just about every minute of that time. And only a handful of those have had a huge impact on their field.
Harvey Lodish — a powerhouse in the fields of cellular and developmental biology, and a beloved teacher and mentor — considers himself lucky to be among that handful. The postdoctoral fellows, students, and scientific collaborators who have been part of Lodish's illustrious career consider themselves lucky, too.
In 2018, Lodish marked five full decades as a member of the biology faculty at Massachusetts Institute of Technology (MIT). For the last 36 of those years, Lodish's scientific home has been Whitehead Institute, where he is a Founding Member. In all, Lodish had more than 200 trainees in his lab — including undergraduates, doctoral and medical students, and postdoctoral fellows — and last month, hundreds of Lodish Lab alums and scientific partners gathered for a weekend-long symposium marking 50 years of discovery, collaboration, and mentorship.
"The symposium was a recognition of the decades of incredible accomplishments because—through his work on formation of blood and fat cells and the metabolism of glucose and fatty acids — Harvey has had meaningful impact on the treatment of cancer, diabetes, heart disease, obesity, and anemias," observes Whitehead Institute Director David Page. "But it was also a celebration of the experience shared by the hundreds of scientists from many generations who were part of an amazing scientific family. The lab environment that Harvey cultivated has produced hundreds of outstanding scientists and leaders of major research and biotech organizations."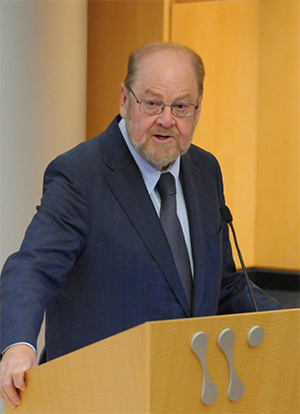 James Rothman — who received the 2013 Nobel
Prize in Medicine and was one of the first
postdoctoral fellows in the Lodish lab — speaking
at the Lodish Symposium
Image: Randy H. Goodman/Whitehead Institute
Characteristically, while many of the symposium's speakers took time to celebrate Lodish as a uniquely creative researcher and committed teacher and mentor, Lodish requested that the sessions' primary focus be on the science itself.  "While I appreciated the celebratory atmosphere, I really saw the symposium as an opportunity for us to learn about cutting edge work being done across the array of fields we've pursued," says Lodish.
The scientific talks touched on a wide range of topics, including the function of chloride channels in fundamental cell biology, the role of non-coding RNAs in metabolism, sensory biology's efforts to rewire the taste system, and advances in treatments for several types of anemias. His last PhD student reviewed her and the lab's accomplishments in engineering red blood cells for long term delivery of many therapeutics into the human body. One of the highlights for Lodish was the talk by Nobel Prize winner James Rothman, Sterling Professor of Cell Biology and Professor of Chemistry at Yale School of Medicine (and one of the first postdoctoral fellows in Lodish's lab), who presented entirely new findings on the mechanisms underlying the near-instantaneous response of individual neurons to stimuli.
Most of the presenters began their talks with reminiscences — often humorous and touching — about the experience of working with Harvey Lodish. Many expressed a sense of affection and gratitude for the Lodish lab environment that enabled young investigators to both excel at their science and have a meaningful life outside the lab. Although he downplays his role in creating that environment, "Harvey created a real sense of family among the people in his lab—and he understood the importance of family in the lives of his trainees," reflects Claire Mitrokostas, who has been the Lab Manager of the Lodish lab for 20 years.
"Harvey loves everything about his career in science, and he's always been a wonderful mentor," says Pam Lodish, his wife of 55 years. "Those are the things that come through clearest when you talk to the people he's worked with over the course of 50 years."
Topics