The Caf: A Kendall Square Institution
This story is part of our ongoing series, Beyond the Lab Bench. Click here to see all stories in this collection. 
For nearly 30 years, Salt Creek Catering — led by husband-and-wife team Jim Nally and Tina Truedson — has served Whitehead Institute with delicious food made in-house and reasonably priced. The Whitehead Cafeteria, affectionately known as "the Caf," is a nexus of the Institute's community as well as a culinary keystone for people working around Kendall Square. 
"We make everything from scratch — the cookie dough, the croutons, the bread, the salad dressing, the marinades — everything's from scratch, and it's affordable," says Truedson. "You just don't see that around anymore."
Truedson and Nally bring impressive culinary training to bear on their mission. Truedson, the head chef for the team, studied at Le Cordon Bleu London and spent time catering in Chicago, working at parties for celebrities including Oprah Winfrey, Dustin Hoffman, and Daryl Hannah. Nally got his start managing for Stouffer Restaurant Corporation in Chicago.
Nally and Truedson's connection with the Institute started in 1985, when they catered the annual holiday party with a Central Square-based company, Seasoned to Taste. The success of the event led Whitehead Institute to invite Seasoned to Taste to run daily food service in the cafeteria. Through the late 1980s, Nally and Truedson catered at the Institute off and on before coming back to stay in December of 1990. They purchased the catering business the year afterward, renaming it Salt Creek Catering, after a river outside of Chicago.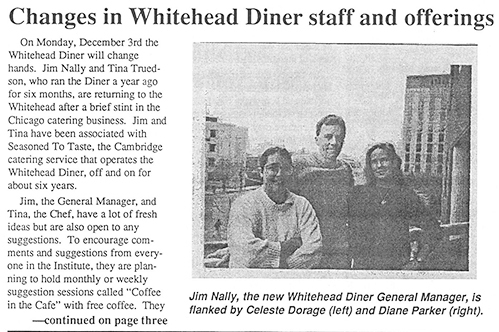 The
Whitehead Bulletin
reports on Nally and Truedson's appointment to run the cafeteria in November 1990
Image: 

Whitehead Bulletin
The culture of Whitehead Institute was different in the 1990s mainly because of how much smaller it was then, says Nally. "Things were more loosey-goosey back then," he says. "Before they put the new wing on, all the labs ate down here together. I knew everyone in the labs." Originally, the annual summer barbecue took place in the parking lot where the new wing is now located. That was also where Nally would often see Whitehead Institute Founding Member Gerald Fink playing basketball with postdocs with a hoop at the back of the building.
Culinary options around Kendall Square were scant in those days besides the F&T Diner, located where the outbound MBTA Red Line stop is today. "There was nothing else around here at the time," says Nally. "The Broad Institute was a parking lot. The Residence Inn and Starbucks weren't there, it was just a gas station. You could see to the river from here."
The scarcity of restaurants, combined with the high quality of the Caf's freshly made food, made Whitehead Institute a lunchtime destination for people working in the area. 
"It's very amusing," Nally said of people from outside coming to eat at the Caf. "You get a lot of MIT faculty and staff here."
"We've met people in other cities and even other countries, and when they find out we work at Whitehead, they'll tell us about how they thought the food there was great, or that they've heard about it from afar," says Truedson. "And we don't advertise at all, it's just word of mouth."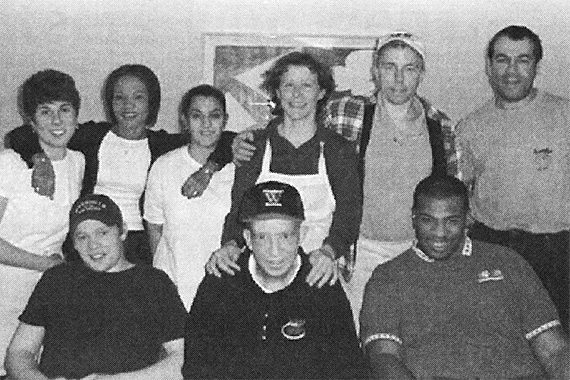 Salt Creek Catering in 2000. Truedson and Nally are back row, third and second from right, respectively.
Image: 

Melissa Lawrence/Whitehead Institute
While Truedson and Nally periodically add new items to the menu — the Caf recently switched from almond milk to oat milk — they focus on keeping things consistent while serving 400-500 people every day in a short amount of time. 
"Food is so unpredictable," says Truedson. "Cooking equipment is unpredictable. We've had things break down in the middle of parties. The key is having a great operation — being super organized. We can do it all blindfolded at this point."
"This is like putting on a Broadway play every day," says Nally. "You can't take too many chances with food because if you fail, people don't come back. It doesn't matter what we did yesterday — at 11:30 the curtain goes up and the food has to be hot, has to look good, has to taste good."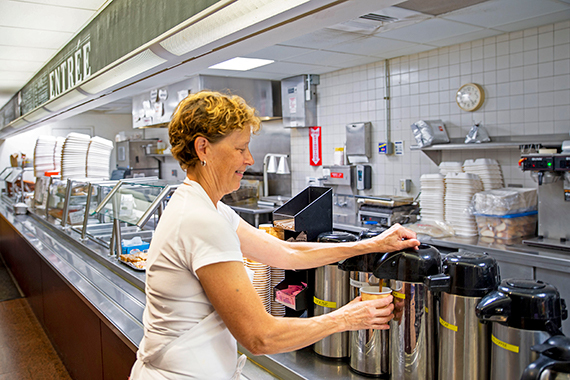 Tina Truedson grabs some coffee as the team prepares for lunch service
Image: 

Conor Gearin/Whithead Institute
Classic dishes at the Caf include chicken parmesan, baked salmon, and the Chang burger. The salad bar, featuring homemade dressings and fresh greens, is also popular. The team recently began serving the Beyond Burger, a plant-based burger alternative. 
For scientists and staff at Whitehead Institute, the Caf is a place to make connections. "Jim really has gone out of his way to get to know people, and to talk to them about things that don't necessarily have to do with food," says Truedson. Nally and Truedson have catered weddings for researchers and have known many of the scientists throughout their careers.
Given the number of international researchers at the Institute, when Nally meets someone from one country, he tries to help connect them with other people from the same country. "It can be hard to meet people from different labs, so I try to let people know if there are other researchers from their home country," he says.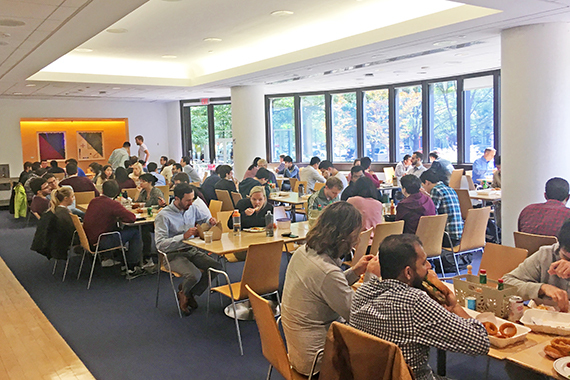 T
he Caf on a typical lunch day in September
Image: 

Conor Gearin/Whitehead Institute
The size of the Caf's team has grown over the years to about 15-17 people on a normal day. The employees hail from all over the world, including Tibet, Cambodia, Vietnam, Liberia, and Bhutan. Truedson says they try to help people towards their next career goal. "We've had kids come through, flourish, and move on," she says. "We've had people go on to get doctorates in physical therapy or speech therapy, or even go into the movie business. We have someone studying for their CPA degree."
On their free time, Truedson and Nally like to exercise. Truedson is a runner, and Nally is a biker. Over the years, they have raised over $20,000 for the Leukemia and Lymphoma Society's Team in Training in events such as Bike MS, the Boston Marathon, and the B2VT bike ride (formerly B2B) — a nearly 150-mile bike ride from Bedford, MA to Windsor County, Vermont. 
Truedson was once a semifinalist for the reality TV show Survivor. While she was working in the kitchen one day, Mark Burnett's production company called to say they liked her three-minute application video and wanted to interview her in person with about 400 other semifinalists. In the meantime, she agreed not to tell anyone, even Nally. After the interview, the producers said she wasn't a fit for that season, but encouraged her to apply again. 
For their own food choices, the couple likes leftovers and going out to casual local eateries. "I really like getting to know the staff at a restaurant," says Truedson.
---