Image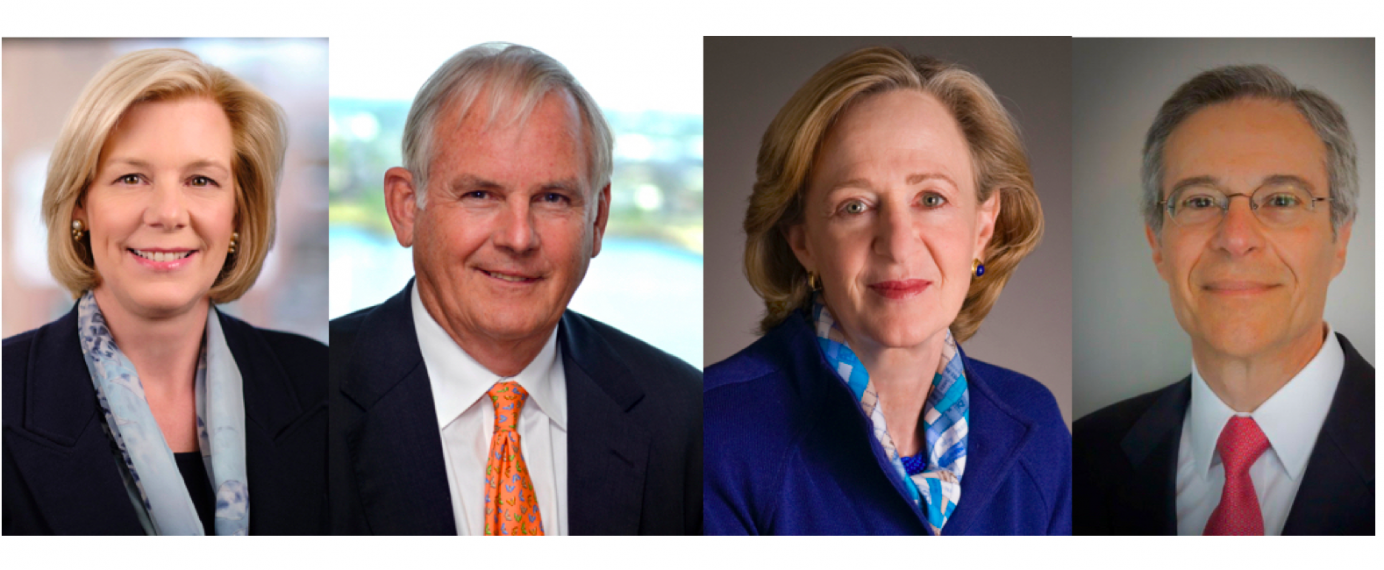 Sarah Keohane Williamson named chair of Whitehead Institute Board of Directors
The Whitehead Institute board of directors has elected Sarah Keohane Williamson as its next chair, effective July 1. Williamson is CEO of FCLTGlobal, a not-for-profit working to increase innovation, economic growth, and savings by encouraging long-term behaviors in business and investing. She possesses three decades' experience in leadership and management, and has built extensive working relationships with business leaders around the globe.
Williamson succeeds Charles D. Ellis, the founder of international strategy consulting firm Greenwich Associates and a prolific author, who has served as chair since 2006. "Sarah is a superb choice to lead the board," says Ellis. "She understands the importance of basic biomedical research, is an expert at governance, and knows what it takes to guide a world-class organization." 
Prior to joining FCLTGlobal, Williamson spent more than 20 years at Wellington Management Company, where she served as a partner, director of alternative investments, and chair of the Wellington Trust Company. Previously, she held roles with McKinsey & Company Inc., the United States Department of State, and Goldman, Sachs & Co. A member of the board of Evercore—which provides global advisory, institutional equities, and investment management services—Williamson earned her MBA, with distinction, from Harvard Business School and her bachelor's in economics, with honors, from Williams College. She joined the Whitehead Institute board's investment committee—which she currently chairs—in 2015, and became a board member in 2018.
"Whitehead Institute researchers are consistently advancing fundamental knowledge in the life sciences," Williamson says. "I feel privileged to help advance their efforts to define the future of biomedical research and healthcare; and excited to take on this new role." 
Three members added to the board
The board also announced three distinguished additions to its membership. These individuals—Susan Hockfield, Dennis Langer, and Churchill Franklin—collectively bring vast leadership expertise and management acumen, as well as deep experience with governance of non-profit, research, and academic institutions.
Susan Hockfield, PhD, president emerita and professor of neuroscience at Massachusetts Institute of Technology (MIT), served as the sixteenth president of MIT. There, as the first life scientist to lead the institution, she championed breakthroughs emerging from the convergence of the life, engineering, and physical sciences; and she oversaw the founding of the MIT Energy Initiative, the David H. Koch Institute for Integrative Cancer Research, the  Institute for Medical Engineering and Science, and the Ragon Institute of MGH, MIT and Harvard. Formerly at Yale University, Hockfield served as provost, dean of the Graduate School of Arts and Sciences, and William Edward Gilbert Professor of Neurobiology. Last year, Hockfield chaired the search committee that recruited Ruth Lehmann, PhD, director of the Skirball Institute of Biomolecular Medicine at New York University, to become Whitehead Institute director on July 1, succeeding David C. Page. In 2019, Hockfield also published The Age of Living Machines, a book that explores the role scientific convergence could play in overcoming major humanitarian, medical, and environmental challenges.
For more than three decades, Dennis H. Langer, MD, JD, has held executive, operating, and governance roles for both start-up and established biotechnology and pharmaceutical companies. Under his leadership, those organizations developed and/or commercialized more than 60 products. Having begun as a clinician—serving as chief resident at Yale University School of Medicine and a clinical fellow at Harvard Medical School and the National Institutes of Health—Langer went on to hold significant R&D and marketing roles at Eli Lilly, Abbott, Searle, and GlaxoSmithKline (where he was a senior vice president for research and development), and to be a managing partner of Phoenix IP Ventures. He has also been a clinical professor of psychiatry at Georgetown University School of Medicine since 2003. In addition, Langer has served on more than two dozen company boards and been a member of governance or advisory boards at Columbia University, Georgetown University, and Harvard Law School. Before joining the Institute's board, he was a member of its finance committee.
Churchill G. Franklin is chairman and former CEO of Acadian Asset Management, a $100 billion institutional asset management firm that he co-founded in 1986. Before joining Acadian, Franklin was assistant treasurer of Thermo Electron Corporation (now Thermo Fisher Scientific, a Fortune 500 company), where he managed all aspects of the treasury function. A graduate of Middlebury College—from which he received an Honorary Doctor of Humane Letters degree in 2008—Franklin chaired the College's board from 2000 to 2004 and is now a member of the investment committee for its $1 billion endowment. He is also a Boston board member of The Posse Foundation—which recruits students from diverse backgrounds with extraordinary leadership potential, trains them to pursue consensus solutions to complex social problems and sends them to some of the country's most competitive colleges—and is a past president of the Concord (MA) Museum. Prior to joining the Institute's board, Franklin served on its investment committee.
Reflecting on the appointments, Ellis says, "Each of these three individuals is a proven leader in their field; and each understands what it takes to guide a world-class organization. It is a privilege and a pleasure to have them join our board. Whitehead Institute will benefit greatly from the skills and knowledge that they bring."
Topics