Meet a Whitehead Postdoc: Laura Blanton
Laura Blanton is a postdoc in Whitehead Institute Director David Page's lab investigating sex differences in human health. We sat down with Blanton to learn more about her and her experiences in and out of the lab.
What are you investigating? 
My research is focused on sex differences in the immune system. There are many differences that we can see between men and women's immune function – vaccine responses and prevalence of autoimmunity are just two of many examples. My work seeks to understand how various types of immune cells from males and females (in both humans and mice) differ, and how those differences arise molecularly. How much is driven from intrinsic properties of the cell, like the difference in having two X chromosomes or one X and one Y? How much is driven by outside signaling factors, like hormones? 
What is your background in science? How did you get interested in your area of research?
I began doing research in a microbiology lab in college that studied pathogenic E. coli, and then I went on to do my PhD thesis studying the gut microbiome. My graduate research studied how bacterial communities in the gut influence healthy growth and development in infants and children, and how disruption of those communities contributes to poor growth. It was a wide-ranging and interdisciplinary project that forced me to think about intricate molecular processes and whole-body systems together. I wanted to continue that way of thinking for my postdoc. Working on the microbiome also gave me a window into host immune-microbe interactions, which led to my interest in the immune system today. 
How did you end up at Whitehead Institute?
The Page lab was first recommended to me by a friend, Jamie Kwasnieski, who just finished up her postdoc in the Bartel lab. She was a couple of years ahead of me in the same graduate school program, and I called her up as I was searching for postdocs to ask for advice and suggestions. I told her that I was looking for a human genetics lab with great science and great people, and she immediately mentioned the Page lab. As I kept looking at different labs, the Page lab stayed at the top of my list – and I was fortunate enough to interview and get offered a position. 
What has been your experience of working in the Page lab?
The Page lab has been a wonderful place to do my postdoc. It's a big group of smart, collaborative, kind people with a lot of scientific rigor. I also love that the lab is a mix of long-time permanent staff and trainees like students and postdocs. David is a great mentor, who not only fosters the lab's great culture, but also allowed me to pursue and design my project in immunology, which hasn't been a focus in the lab before. Research-wise, it's been very fun and exciting to dive into the lab's new sex differences in health and disease initiative. There is an abundance of questions to answer, and the lab is developing new ways to explore those questions all the time. 
What are your hobbies outside of work?
I have a number of hobbies, though a lot of my time outside of work is spent with my toddler. I'm a big reader and lover of libraries. One of my favorite things to do (before the current shutdown, of course) was to spend a couple of hours at the Boston Public Library's Central Branch, going through the stacks and reading a book. I also love crossword puzzles, singing in my church choir, and volunteering with a community-organizing group that works to improve healthcare access, housing, and criminal justice in the greater Boston area. 
What are some of your favorite books? 
One of my favorite books is Middlesex, by Jeffrey Eugenides. It's a novel about someone with XY chromosomes who has a mutation in the 5-alpha-reductase gene that impedes the body's ability to respond to testosterone and develop typical male gonads. Beyond that, however, it's a multi-generational story about immigrating from Greece to the US and how one finds their own identity in the midst of deeply rooted family cultures. The book does an excellent job of weaving the beauty of biology with Greek influences of myth and destiny. Funnily enough, I discovered this book in high school, long before I had any formal interest in the sex chromosomes. I had no idea I would go on to do my postdoc in a lab that studies that very thing!
Does your toddler have a favorite book right now?
Her favorite books change week by week, but she's currently loves All the World by Liz Garton Scalon, Little Blue Truck by Alice Schertle, and Goodnight Moon (a classic!). 
How do you balance the demands of postdoc life with your outside life?
I constantly write detailed to do lists, otherwise I'll simply forget all the different things going on (both for work and for home). I tend to end up juggling a lot of different things at once, which keeps me on my toes and motivated. At the same time, I try to keep a healthy perspective on productivity and acknowledge that I'm not going to be able to do all the things that I want to do, but that doing my best is enough. It's important to keep the big picture priorities in mind, so that I can make the most of the time that I do have to work or be at home.
Do you have any pets? 
Yes! I have two cats: Hildegard and Leeuwenhoek (a shout-out to the inventor of the microscope, and my microbiology roots). Both were adopted from the humane society during graduate school. Louie is a Manx mix, so has no tail; Hildy is a domestic blue with maybe some Siamese.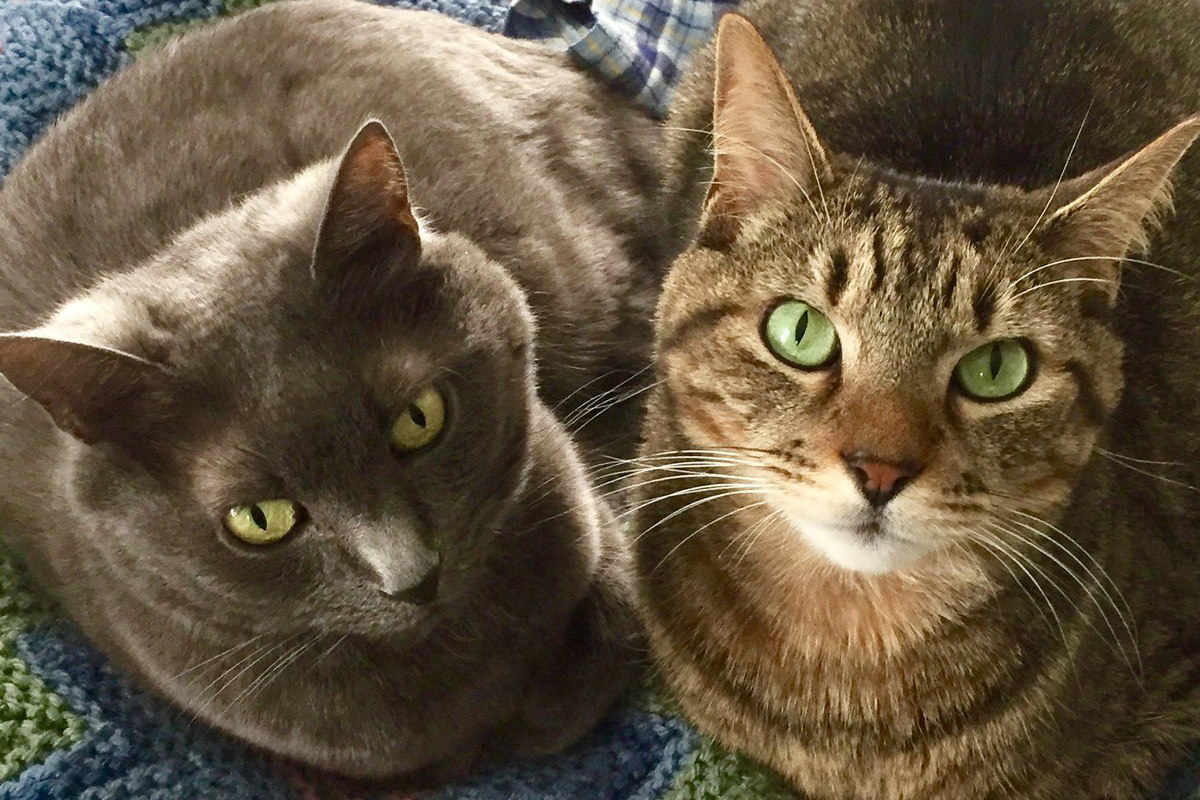 What is the first thing that you wanted to be as a little kid, and why?
In elementary school, I was dead-set on becoming a teacher; I had a fantastic third-grade teacher, Ms. Schrock, who filled the classroom with energy and enthusiasm and made school so much fun. When I hit freshman year of high school, however, I had my first exposure to molecular biology, and I became totally captivated by DNA. I had a period of time where I thought about combining the two and becoming a science teacher, but performing research full time was more enticing. There are a lot of principles in teaching, though, that I try to carry with me today, like the importance of communication and mentoring younger students. 
What have been your experiences as a teacher or mentor?
I did a lot of volunteering during graduate school for a science outreach program that did hands-on demonstrations for grade school classrooms, as well as tutoring for high school students in a summer biology research program. I also taught a semester of one of the advanced undergraduate seminars for MIT students, and had a wonderful UROP [undergraduate student researcher] this year, before all students were sent home due to the pandemic. 
Could you elaborate on the principles in teaching that you've kept with you? 
I believe that it's very important to use empathy to know and adapt to your audience when communicating. Someone could describe a fascinating scientific phenomenon, but if it's unintelligible to the audience, it's worthless. I learned this over and over when doing science outreach in graduate school; teaching genetics to middle school classes versus high school classes, or in a large group versus one-on-one, should be different. The same principle applies when giving a scientific talk as a postdoc: awareness of your audience's expertise helps to frame how you should explain your research. 
Topics