Meet a Whitehead Postdoc: Kacper Rogala
Kacper Rogala is a postdoc in Whitehead Institute Member David Sabatini's lab investigating the structure and interactions of proteins involved in an important metabolic pathway. We sat down with Rogala to learn more about him and his experiences in and out of the lab.
What are you investigating?
I work with David Sabatini on mTOR. mTOR is a protein molecule that primarily controls the smooth transition between growth and self-renewal in our cells. To do that, mTOR detects nutrient availability and other environmental factors, and "decides" based on what it detects whether an organism should build new cell parts and grow, or prepare for hard times by initiating a recycling program instead. We call mTOR a co-incidence detector, by which we mean that it will only start a growth program of an organism when both food and growth hormones are present.  If you only have one of the two, then mTOR switches to recycling. As you can imagine, the activity of mTOR is tightly controlled in cells, so that we don't get too much or too little growth in our body. Deregulation of mTOR can lead to many disease states, including cancer, diabetes, and neurodegeneration, and its activity appears to be important in aging.
I'm a protein chemist, so one of the things that I do in the lab is produce large amounts of the mTOR pathway components that our lab has discovered throughout the years. I'm trying to understand how these proteins communicate with one another, and what they look like – at the very detailed level of single atoms. Because proteins are very small objects of a few millionths of a millimeter, we turn to specialized techniques in structural biology to achieve such a high level of detail. To determine the three-dimensional shapes of proteins, we either grow protein crystals and irradiate them with intense X-rays, or freeze them in a very thin layer of ice and visualize them under powerful electron microscopes. A thorough understanding of protein structure allows us to answer questions that are unanswerable by other techniques, and enables novel routes of investigation. For example, once we know how mTOR interacts with its regulatory proteins,  we can start designing experiments that would modulate or interfere with such interactions. Particularly, we are looking for small molecule probes that can target those proteins with high precision and specificity. These probes can be used as a starting point for developing therapeutics against mTOR-related diseases. They can also be used as a research tool to modulate mTOR activity in a cell and observe the changes live, which is something that I'm really excited to explore.
How did you end up at Whitehead Institute?
I was born and raised in Poland. I went to high school in Kraków. I was always interested in science, and I knew I wanted to do something creative that involved science. I thought about going to medical school, as I think many kids do. But then I really got excited about chemistry and how it interfaces with biology, so I went to study biochemistry at the University of Edinburgh in Scotland. I did all of my higher education in the UK: a master's degree at University College London, and then a PhD at Oxford University.
At Oxford, I got hooked by a rather challenging project that one of the new group leaders developed. His name was John Vakonakis, and he wanted to figure out what a centrosome looked like in detail—the centrosome is a massive organelle involved in cell division and is composed of hundreds of proteins. We worked together closely and completed a number of projects that I am really proud of; it's a special relationship to be the first PhD student of a new faculty member. Then I was looking for a new challenge. It's really hard to decide what to work on. There are so many fascinating things to do out there. I was looking for something that would be feasible with the current state of research techniques, and also something that's very exciting and can lead to therapies, because I really wanted to have that angle in my research. I had been reading a lot, and then decided that this was it—I was going to work on mTOR. I contacted David Sabatini, and he was excited for me to come and join, because he also wanted to move in that direction himself. Being a leading lab in the discovery of the mTOR pathway, he really wanted to paint a complete picture of it that spans many levels of biological organization, from atoms to living organisms.
What's the biggest disaster you've ever had in the lab?
We work with things that are very expensive, like multi-million dollar microscopes, and it can be stressful; you want to quadruple check everything you do until you get really proficient. I've had my share of mishaps. As a silly example, I was using a foam dewar flask that we fill with liquid ethane and nitrogen for flash-freezing proteins. One day I found it with some liquid inside, and I was a bit impatient and wanted to dry it fast, so that I could start with my own experiments. So I used a hair dryer on it, which is something we normally do, but I didn't realize that this was an industrial hair dryer, and it literally melted the entire thing once I turned it on. So you're looking at hundreds of dollars of damage, but more to the point, we didn't have a backup, so then we had to wait and people were annoyed. But things like that happen, and you learn your lesson and move on: now everyone knows not to use that hair dryer.
What did you want to be as a kid?
I really wanted to be a filmmaker. In primary school, we used to hang out and make videos. It was a time when there were no iPhones; you had to go and buy a film camera and rolls of tape to do this. I was super dedicated. My friends and I made a full feature film, 90 minutes long. We had that screened in a local cinema in our town and also in Kraków. Then in high school, I was doing all my science, but on top of that my main extracurricular was filmmaking. I got involved with a filmmaker's group led by professionals, who were guiding us through how to go to film school and how to apply, and we were making short movies. It was great. I did apply to film school at the same time I was applying to biochemistry, and it turned out the biochemistry people wanted me to come but the film people didn't, so this is where I ended up. I continued making movies in college, and for one particular short film, we were nominated for a BAFTA award (the British equivalent of an Oscar).
Do you still make films?
With the paper we just published—David laughs at this—I made videos of the proteins that we managed to visualize and how they talk to one another. I just love that stuff. I don't get to use a camera that often anymore; it's all models and visualization on the computer, but it's still making videos so I love it. I really like the fact that you can make it easier for people to grasp difficult ideas by showing them a video. People say a picture is worth a thousand words, and a movie is one thousand pictures. When I was a biochemistry student, there were some concepts I really had trouble understanding and I think that they would have been easier for me to grasp if there were videos. 
What are your hobbies?
Being a postdoc, I have had to drop all hobbies. One thing that I was really into, and I regret that I haven't been doing it so much, is playing sports. I love playing handball, which is not so popular in this country but back where I am from, we are obsessed with handball—especially because we have a team in the region that plays in the Champion's League. I grew up playing every day in a club. Then when I was at university, I joined the universities' teams and city clubs. At Oxford, we did really well; we won the national league for universities twice in a row. I really miss being a part of a sports team; hanging out with those guys, playing, and traveling and challenging other teams. But I feel like science is like this to some extent as well. I feel very fortunate to be in David's lab, because he gives me a lot of freedom in my research, and allows me to bring in students. We make a little team, just like in sports. We help each other. Each person has a different role, a different project, but there are things that overlap, and we try to work as one organism, as a team. So I think my background as a very team sport-oriented person is paying off in science.
What has been your experience of mentoring students?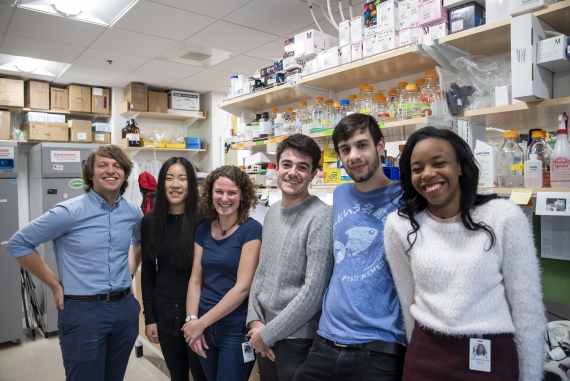 As a postdoc, I'm training to become a professor in the future. David creates this excellent environment where you can do everything the professor does but with a safety net of being a postdoc. So one of the things that we do is work with students. The first year that I was in the lab, I was only accompanied by one undergraduate student from MIT. Eventually I was able to set up enough projects and new, tangible directions that I could start recruiting more students who would be interested in joining us. My role is to supervise them in their master's theses, which are centered on mTOR, and can take between six and twelve months to complete. It's very rewarding to see them grow over the months and become independent, to see them suggest experiments and then go ahead and do them. We are actually publishing papers from data that they generated, which is super exciting. When they graduate we have a big celebration, and after they leave I try to follow up with them. Many of them went on to do PhDs, while others are now specialists in protein chemistry in biotech and pharma companies. They're doing very well and I'm really happy to see that happen.
Where do you see yourself in ten years?
I'd like to be in a place like Boston, which has a critical mass of people excited about science and truly living and breathing it. I'd like to be a group leader in a university and run a lab that's interested in translational aspects of structural biology. For example, being able to recognize what is an important cancer target, visualize it with structural tools, explain how it works, and then develop small molecules that can modulate its function. Then we can hand the work over to researchers who are experienced at developing these molecules into therapies. So that's how I see myself in the next ten years, basically running a group of people who share the same goals of understanding biology on this very detailed level and diving into the world of chemical probes and therapeutics.