Metabolite Profiling Core Facility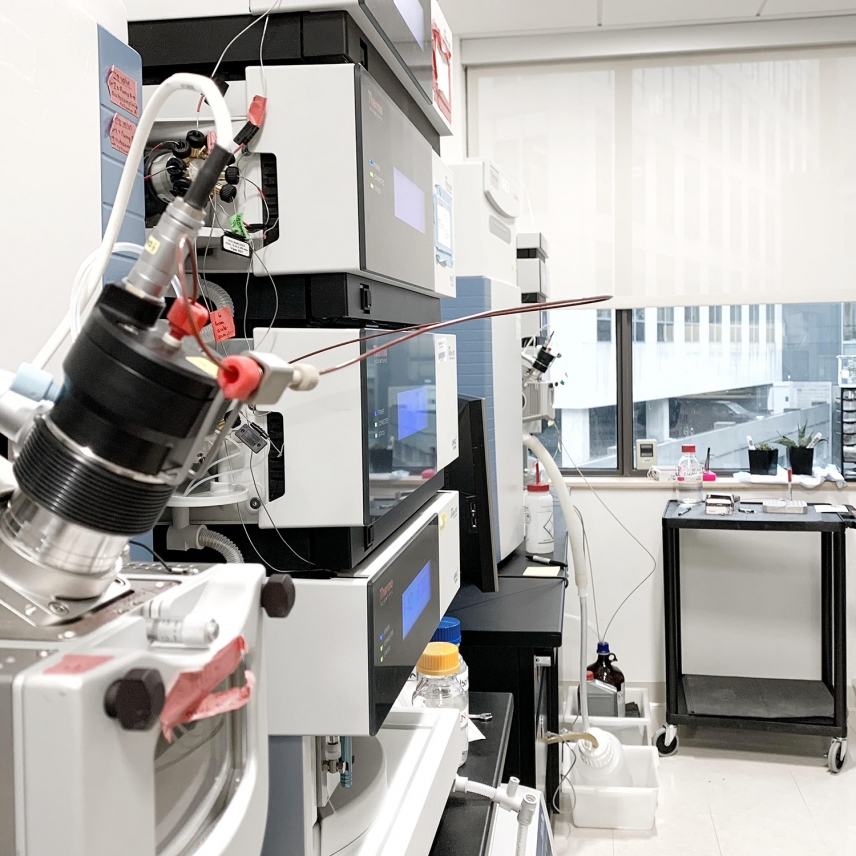 Mission of the Metabolite Profiling Core Facility (Metabolomics)
The overall mission of the Metabolite Profiling Core Facility is to support metabolism-based projects at Whitehead and MIT by enabling researchers to measure small molecules and lipids in a variety of biological samples.

We provide our expertise and access to state-of-the-art liquid-chromatography mass-spectrometry instrumentation that is optimized for the detection of metabolites and lipids. We maintain the instruments, perform the assays, carry out data analysis and assist in data interpretation and experimental design. We also offer training in both instrument operation and data analysis, where appropriate.
COVID-19 Statement
Due to the ongoing Covid-19 pandemic the Metabolomics Core is unable to accept new samples from external researchers. We sincerely apologize for this inconvenience. Stay safe!
---
About Us
Recent research in cancer biology, aging, microbial pathogenesis, and many other areas has revealed a key role for small molecule and lipid metabolites. The Metabolite Profiling Core Facility (Metabolomics Core Facility) was established in 2013 to support studies in this rapidly developing field.

Due to the extreme chemical diversity of small molecule and lipid metabolites – which greatly exceeds that of proteins and nucleic acids – the facility operates on a collaborative model in which experimental design, sample preparation, data collection, and data analysis are tailored to each study. We serve the Whitehead as well as the larger MIT community and external collaborators.

The facility is managed by Tenzin Kunchok, and employs two full time technicians, Kayla Crowder, Ph.D and Tenzin Tseyang. The faculty advisor for the facility is Prof. Iain Cheeseman Ph.D.
---
*Please note that due to limited operational capacity we are unable to perform lipidomics experiments for researchers outside of the Whitehead and MIT community at this current time.
If you are interested in performing a metabolite profiling experiment, please contact Caroline Lewis at calewis at wi.mit.edu to set up an initial consultation. Sample preparation, LC/MS, and data analysis methods vary widely depending on metabolite, sample type, and biological question. This page is intended to provide a general overview only.
We routinely perform relative quantitation of many polar metabolites (including amino acids, glycolytic and TCA cycle intermediates) using hydrophilic interaction chromatography (HILIC). Analysis of lipids*, other non-polar metabolites and drugs is performed using reverse phase chromatography.
For many metabolites that have not previously been analyzed at our facility, we find that our existing methods are sufficient. However, in certain cases the sample preparation, chromatography and/or mass spectrometry portions of the analysis may need to be optimized or newly developed. Chemical standards are essential for this purpose. Chemical standards are also required to aid in the identification of metabolites found in untargeted analyses.
Several levels of analysis are available:
Relative differences in metabolite concentrations between groups of samples are sufficient for many applications
Absolute (molar) quantitation is performed using standard curves and/or labeled internal standards.
Certain applications may benefit from untargeted analysis, which we perform using Compound Discoverer 3.1 (Thermo Fisher Scientific) and LipidSearch (Thermo Fisher/Mitsui Knowledge Industries) software for polar metabolites and lipids*, respectively.
The majority of the workload in untargeted analyses occurs AFTER data acquisition and basic processing. For this reason, untargeted analyses will only be conducted as part of a collaboration, with prior agreement with the Director of the Core, Caroline Lewis.
The core has extensive experience performing stable isotope tracing experiments (please note, this is not metabolic flux analysis), which can be conducted in collaboration with the Core. Please discuss your needs with Caroline Lewis.
---
Instrumentation
The Metabolite Profiling Core Facility houses three liquid chromatography / mass spectrometry (LC/MS) systems.

We have two Thermo Scientific QExactive Orbitrap mass spectrometers and one Thermo Scientific Orbitrap ID-X mass spectrometer, all of which are capable of measuring mass-to-charge ratios with less than 5 ppm error and a resolution of up to 140,000 and can also collect MS/MS fragmentation data. Each mass spectrometer is coupled to a Dionex UltiMate 3000 ultra-high performance liquid chromatography (UPLC) system designed for pressures up to 1000 bar, permitting rapid separation times of ~30 minutes per sample.

Together with a library of several hundred synthetic standards, the combination of exact mass, fragmentation, and chromatographic retention time data permits the positive identification of most common cellular metabolites. Operating the mass spectrometers in either targeted or full-scan mode enables both hypothesis-driven and hypothesis-generating (untargeted) experiments to be performed.
---
Pricing
Metabolite Profiling Core Facility charges consist of two categories: (1) per-sample fees and (2) data analysis & method development time. Project discussions, sample prep reagents, and help with manuscript preparation are always free, and there is no per-sample charge during new method development.
The main factors that determine data analysis time are the type of analysis (relative quantitation < absolute quantitation < untargeted analysis) and the number of metabolites. For a sample batch containing 20 or fewer samples, with 5 or fewer target metabolites, data analysis time typically does not exceed 1 hour for relative quantitation or 3 hours for absolute quantitation.
Price shown is the per sample run cost.
We offer all non-profit researchers a 20% discount on the per sample run cost for sample sets >32.
WIBR Metabolite Profiling Core Facility Pricing 2020

|   | Single polarity/ polarity switching (Most pHILIC and reverse phase methods) | Lipid/dual polarity | Standard Curve* | Untargeted polar metabolomics | Method development/ Data analysis (per hour) |
| --- | --- | --- | --- | --- | --- |
| WIBR | $12.00 | $18.00 | $108.00 | $15.00 | $25.00 |
| MIT | $30.00 | $45.00 | $270.00 | $37.50 | $60.00 |
| External non-profit | $60.00 | $90.00 | $540.00 | $75.00 | $60.00 |
*Depending on the specific metabolites of interest, multiple standard curves may be required.
Please contact Caroline Lewis to enquire about using our services if you are a corporate researcher.
We do not typically have the capacity to extract samples. However, if agreed with us ahead of time we can perform sample extraction at the following cost for all researchers:
|   | |
| --- | --- |
| Bi-phasic extraction for lipids (plasma or cell pellet) | $20.00 |
| Protein precipitation for polar metabolites (plasma or cell pellet) | $15.00 |
Acknowledgement and Co-Authorship Statement
It is important to document use of the Whitehead Metabolite Profiling Core Facility in each publication, poster presentation or oral presentation. This helps us to be recognized by the institute and facilitates funding, and allows us to continue to support your research.
When data provided by the Metabolite Profiling Core Facility results in a publication, please contact us to let us know, and acknowledge the Core in your manuscript using a simple statement, such as the following:

"We thank the Metabolite Profiling Core Facility at the Whitehead Institute for running metabolomics samples and for data analysis".

When a member of the Core has contributed significantly to a project, consider making them a co-author. The members of the Metabolite Profiling Core Facility are valued scientists; as such, their contributions to projects deserve to be recognized like any other co-author. For guidelines on including Core Facility personnel as co-authors, please see recommendations made by the Association for Bimolecular Resource Facilities (ABRF).
---
Resources
Human Metabolome Database (HMDB): Includes experimental and/or predicted MS/MS spectra for 114,224 metabolites.
KEGG: An important database of metabolites and metabolic pathways. Search for specific metabolites by name to view chemical structures and relevant pathways and enzymes. Alternatively, search for metabolic pathways (e.g., "glycolysis") to view and download pathway maps.
Metlin: A vast database containing experimental MS/MS spectra where available.
mzCloud: Thermo's fully curated spectral library with data collected solely on orbitraps.
Planet orbitrap (for all things Orbitrap)
Compound Discoverer Help: Help with Thermo's untargeted analysis software.
LIPID MAPS Lipidomics Gateway: An excellent resource for anything to do with lipids and lipidomics including protocols.
Metaboanalyst: A user-friendly, open-source platform for analyzing large-scale metabolomic datasets (e.g., the full polar metabolite panel analyzed by our facility). We have found the Statistical Analysis, Pathway Analysis, and Enrichment Analysis modules to be particularly useful. The Integrated Pathway Analysis tool is for combining metabolomics and gene expression data.
Lipid Mini-On - lipid enrichment analysis and visualization.
Metscape 3 for Cytoscape: Another tool for mapping your data onto metabolic gene and/or reaction networks, with the option of adding gene-expression data as well.
---
Examples of open source data processing and analysis platforms:
msConvert (Proteowizzard): A tool required to convert vendor specific files (e.g. Thermo .RAW) to open source formats mzML or mzXML.
MZMine2
El-MAVEN
XCMS online
SIRIUS and CSI:FingerID: Software that uses machine learning to generate metabolite IDs using isotope patterns and spectral trees.
CFM-ID: Competitive fragmentation modeling for metabolite identification.
---
Metabolomics Data Repositories:
Journals are increasingly requesting that metabolomics data be deposited in data repositories. There are two main data repositories recommended specifically for metabolomics data:
Metabolomics Workbench (hosted by UCSD and sponsored by the NIH).
MetaboLights (hosted by EMBL-EBI)
---
Contact
Please email Tenzin Kunchok (tkunchok[at]wi.mit.edu) for information about the facility's scientific services, as well as pricing and billing. For other administrative inquiries, please email Edie Valeri (emvaleri[at]wi.mit.edu).

Shipping address:
Tenzin Kunchok
Whitehead Institute for Biomedical Research
455 Main Street, Room 647
Cambridge, MA 02142
(617) 324-7138